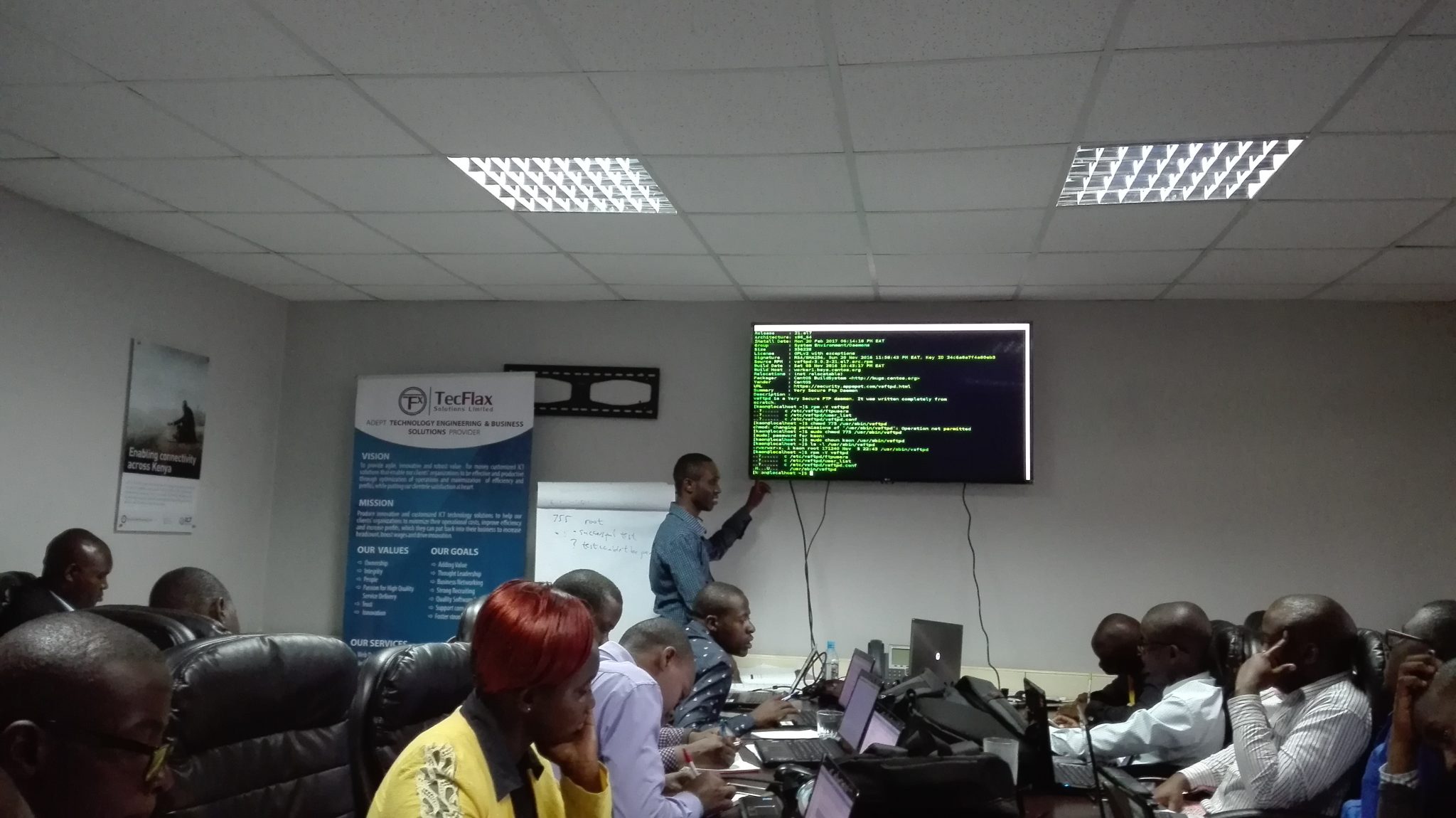 Recently, TecFlax Solutions Limited collaborated with Lanet Consulting Group to initiate pilot project training in Linux Professional Institute (LPIC-1) Level 1 Certification with the ICT Authority of Kenya (ICTA). This pilot collaboration training was aimed at training the interns recruited via Presidential Digital Talent Programme (PDTP) on practical skills in Linux System Security.
As you know, the world's largest technical support, software and hardware companies use Linux on a daily basis for a variety of tasks and solutions. The ethical hacking skills are based on Linux. Therefore, there is urgent need for the government to equip the ICT personnel in various parastatals and government institutions to protect their data against cyber attack. The PDTP interns practically learnt about the architecture of a Linux system, working at the Linux command line, handling system security and how to do backup and restore of systems.
As TecFlax, we are proud to bring the Linux industry practicing standards to the classroom level. We are also proud of the interns for completing their training and doing the certification exams successfully. The training took 10 weeks from February to April 2017 whereby the interns were being trained daily in the evenings from 5.30pm to 7.30pm by Certified Linux Engineers.
TecFlax Solutions Limited has embraced the latest revolutionary and the most robust/secure server technology, i.e. LINUX. Linux is the most widely used open source operating system in the world. It has scored a major publicity coup evidenced with its utilization on 94%of the world's top 500 supercomputers. Linux operating system is currently revolutionizing the ICT industry, while offering more affordable option for individuals and companies to host their highly resource intensive computive systems, applications and websites in a more secure environment. Currently more than 60% of the web servers are known to be hosted on Linux operating system. Android which was developed by Google is based on Linux and as you know it's currently the most dominant tablet and smartphone platform.
LPI is a Non-Profit Organization
Linux Professional Institute (LPI) is the global certification standard and career support organization for open source professionals. With more than 500,000 exams delivered, it's the world's first and largest vendor-neutral Linux and open source certification body. LPI has certified professionals in 181 countries, delivers exams in 9 languages, and has over 400 training partners now including TecFlax Solutions Limited.
The Presidential Digital Talent Programme
The Presidential Digital Talent Programme (PDTP) is a collaboration between the public and private sectors that takes fresh and qualified ICT graduates through an internship programme designed to build their ICT capabilities, ready for the ICT market.

Why Companies Need Linux Trained ICT Staff
1.

Competitive Advantage
With their advanced skill set and in-depth technical know-how, they provide higher levels of service and productivity, which in turn gives your business a competitive advantage.
2. Reliable Benchmark for Your Staff
LPI certification can help you assess the technical expertise of your staff, discerning whether they possess the skills required for an enterprise IT environment, or if they have gaps in their knowledge that need to be filled with training. Also, with today's increasingly heterogeneous Linux IT environments, evaluating skills across employees with different distro specialties can be challenging.
3. Increased Job Satisfaction & Employee Retention
By investing in your team on Linux training you're also investing in developing your staff's professional skills and career goals. This investment not only increases job performance of individuals, but also their loyalty to the organization. Studies have shown that employee satisfaction and retention increase when employers contribute to advancing the career goals of their employees.
4. Ability to Hire Top Talent
Linux Certifications play a critical role in helping you easily identify which applicants are qualified during the hiring process. The performance-based and community-sourced exams are difficult by design, so you can rest assured that a candidate boasting with a TecFlax training is truly qualified for your organization.

Contact Us to receive training on the latest system security technologies and ethical hacking skills for robust cyber-security